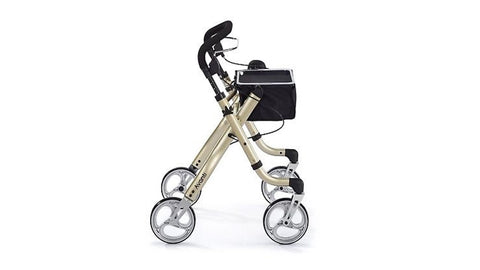 COMODITA Avanti Foldable Walker
Rs. 17,290.00

Rs. 17,290.00
---
---
Please click here for a guide on how to place an online order in this site.
•  Unique one or two hand operation
•  Brake bar activates both rear wheel brakes
•  Handle finished with soft foam rubber for added 
   comfort
•  Adjustable handle height
•  Easy to operate in narrow and small spaces
•  Convenient removable cup holder
•  Removable plastic tray to transport small items
•  Removable, washable nylon bag to transport 
    personal items
•  Our signature "S" shaped back wheel support
    provides extra space between rear wheels to
    avoid tripping and falling
•  Light weight (15 lb) and easily foldable for
   transportation
•  Hand brake locking system for parking
•  Large 8" wheels help overcome small obstacles
 Lead time is usually 12 to 15 days from order placement. Please mail us at care@alivekart.com for an expedited delivery.
---
We Also Recommend