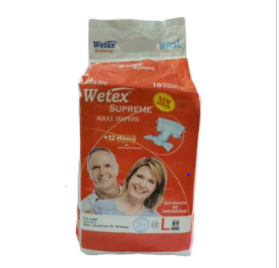 Wetex Adult Diaper Supreme M,L,XL
Soft & Comfortable : Non-woven fiber provides soft and comfortable properties which enable the fluid to pass through quickly and do not flow back,this keep the skin dry and comfortable.
Standing inner leak guards are more safe : Soft and fitted leakage guards help stop leakage,this you can use it far more safely.
Refastenble tapes are easy to use : Refastenable frontal tapes,good for multiple times of tapes applications,easy to use.
High speed channel :With the specially-designed linking channels,running liquid spread fast all over the pad and absorbs speedily to make the surface dry.